"From Finance Leader to Strategic Thinker" Run 5
(Commencing on Thurs 12 Oct 2023 over 6 sessions via online Zoom facility)
International participants are most welcome
Introduction 
There has been an urgent need for finance leaders to assist their CEOs in  corporate strategic planning  which requires a strategic thinking skillset. This skillset is in huge demand and is complimentary to the finance leaders' professional accounting and finance skills. With this skillset, it paves the way for the finance leader to join the C-suite in later years! It is definitely a career-enhancing and career-promoting skillset.
The CEO and MD's roles in a company encompass a totally onerous and professionally challenging skillset. Strategic thinking is central to the job. But most newly appointed CEOs lack the knowledge of and guidance on such skills. Furthermore, the Finance Leader is not helping much.
This Masterclass emphasises the importance of cashflow sustainability and its implications to corporate growth. And successful corporate growth requires a good strategic thinking skillset. This Masterclass  teaches a structured approach to corporate planning for growth, with a framework and practical case study applications.
It is especially helpful to the following target groups. 
Strategy-supportive finance leader.
Accountants/Professionals with C-suite ambitions
Aspirant CEO
Newly appointed CEO
Incumbent CEO
Financial consultants
Framework for strategic thinking and execution. 
The starting point for corporate strategic planning for growth is to assess the company's  cashflow sustainability. Corporate growth cannot be attained successfully without it. Next is to decide whether corporate growth is to be derived from organic (from within the company/group) or non-organic (from investments and/or mergers & acquisitions) endeavours.
Before we get to the stage of the corporate planning framework, we must arm ourselves with the relevant management models and apply them to enhance our understanding of the company and as tools for execution of our corporate strategic plan.
Identifying our core and non-core businesses are critical because with limited resources, we cannot afford to invest  too much in non-core businesses that may deplete shareholder value as we are not fully in control of them.
With the foregoing understanding and assessment, we are now ready to embark in the Corporate  Planning Framework, addressing the three stages viz.
Where are we now?
Where do we want to go?
Can we get there?
The diagram below depicts what this Masterclass is focused in.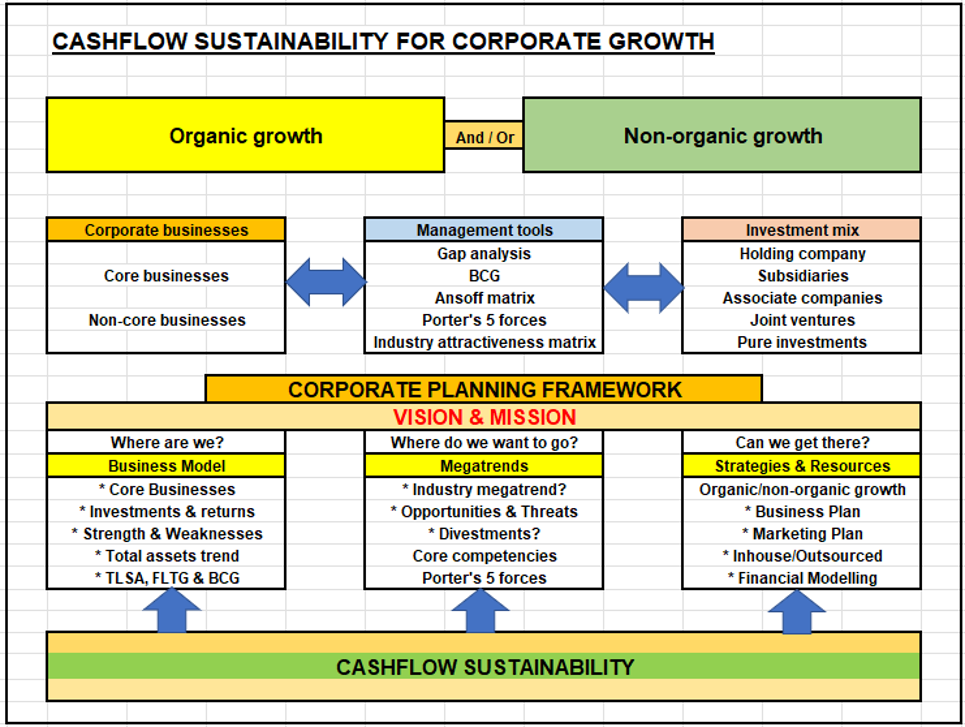 Content of Masterclass
| | |
| --- | --- |
| Session 1 | Overview of FLST Masterclass |
| | The essence of corporate cashflow sustainability |
| | a) From Entity Concept to Cashflow Sustainability |
| | b) Shareholder value and V.I.S.A. |
| | c) The economic resources approach to accounting |
| | d) Capital structure, leverage, and risks |
| | e) Leading & lagging indicators |
| | f) Period cashflow statement analysis |
| | g) Trend  cashflow statement analysis |
Session 2
 Case study  on Cashflow Sustainability – A listed company in Singapore
Management models: – fish bone/gap analysis,
Ansoff Matrix, BCG
Session 3. 
Management tools
Vision & Mission, Porter's 5 forces,  Industry attractiveness, Biz Model,
  PESTLE, Megatrends
Session 4.      Framework of corporate planning. – Organic vs non-organic, WACC vs  Hurdle rate, 
4.1
SITUATION ANALYSIS
Where are we?
Using the TERTA Approach
a) Over a 5-year period, where are Total Resources heading?
 – Growing, Stabilising, Erratic or Shrinking?
b) Where are the resources allocated to?
c) What is the composition of funding resources?
RECOGNITION OF ISSUES/PROBLEMS
What are the current issues/problems?
  a) FSA – using lagging and leading indicators (FLTG & 2-level sales analysis)
  b) CFS Analysis – using 7-step approach
  c) Cashflow Sustainability Analysis – using 5-step approach
BUSINESS MODEL & CORE COMPETENCIES
What led to current situation?
 a) 3-year financial history
 b) Past & current strategies
What is the current situation?
 a) Business model
 b) S&W
 c) Porters' 5 forces/value chain
 d) BCG matrix
 e) Gap analysis
4.2
STRATEGIC INTENT & DIRECTION
Where are we going?
Where may we go?
 a) Megatrends
 b) O&T
 c) PESTLE
 d) Ansoff matrix
 e) Industry attractiveness matrix
Where do we want to go?
 a) 3-year projected financials
 b) Organic growth / M&A using Financial Modelling
 c) Divestments
 d) Business Strategy & Plan
4.3
IMPLEMENTATION & FEEDBACK
Can we get there?
What resources and competencies are requIred?
 a) Existing resources & competencies?
 b) New resources & competencies required?
How are they satisfied?
 a) Acquisition/Training ?
 b) Matching / Adequacy?
 c) Implementation & monitoring
Session 5   Financial Modelling
a) Steps in financial modelling
b) FM of projected/budgeted P&L and Balance Sheet
c) FM of investment gap – M&A requirements
   corporate planning framework
Session 6.  Case study-  a Singapore public-listed group    using Corporate Planning Framework
 
Who should also attend?
Newly appointed Finance Leaders
Accountants/Professionals with C-suite ambitions
Strategy-supportive Finance Leader
Finance Leaders who want to widen their scope of knowledge and skillsets
CFO-aspirants
Heads of Finance Department
Finance Managers
Finance Leaders who want to fill knowledge and skill gaps.
Relationship Managers (banks) who need to interface with CFO/CEOs
Financial consultants
Methodology
This Masterclass will be conducted in a  Zoom online  environment conducive to learning where trainer's sharing of practical examples/illustrations/cases, and life-long mentorship reinforce learning. Participation is welcome but not compulsory.
Duration of Course
Commencement date: Thurs 12 Oct 2023
Duration: 6-weekly sessions of 3 hours each, from 7 pm to 10 pm (2 x 15-minute breaks)
Registration through Michael M Lee at mtclee@singnet.com.sg or ACCA Singapore Tel:+65  67348110
Course Fee
Discounted offer of S$900 
Venue : Via online Zoom facility
     9. Principal Trainer Profile
Michael Matthew Lee is a trained teacher, lecturer, coach and facilitator, and is himself a life-long learner. Being trained, he is skilful in explaining difficult concepts in a simple and understandable manner. With his more than 40 years of corporate working experience, which include serving as Group CFO of 3 large Main Board public-listed groups, and as CXO (MD/CEO/COO) of various companies across industries. He specialises in Finance and Strategic Marketing, and is exposed to senior executive management practices, issues and challenges. He adopts a practical approach to his training and facilitation and draws case studies from actual cases (adapted) he personally managed over his 4 decades of corporate working experience.
Michael Matthew Lee's credentials are:
Chartered Accountant (ISCA)
Chartered Marketer (CIM(UK))
Associate CVA (SAC-IVAS)
MBA (Finance, NUS Business School)
MBA (Strategic Marketing, University of Hull)
BAcc (NUS); DipM (UK); PDipM (APAC); ACTA; PMC, CertEd
ASEAN CPA; FCA(Singapore); FCPA(Aust); FCCA(UK); FCIM(UK); MSID.

Note:
Michael has written 14 accounting & finance articles to-date and they can be accessed through
Website: www.cfodesk.com.sg;
LinkedIn: "Michael M Lee"; and
Facebook: "Michael M Lee"
8 Oct 2018: "Debit & Credit" – Upon this Rock, the House of Accountancy was built!
17 Oct 2018: Financial Statement Analysis (an overview) – moving from lagging (historical) indicators to leading (predictive) indicators.
26 Nov 2018: Traditional Financial Statement Analysis –using lagging indicators (Part 1)
17 Dec 2018: Financial Statement Analysis – using leading indicators (Part 2)
24 Jan 2019: Financial Statement Analysis –Is there an optimal capital structure? (Part 3)
24 Feb 19: Financial Statement Analysis – What is V.I.S.A.? (Part 4)
7 Apr 19: Financial Statement Analysis – The V.I.S.A. Approach (Part 5)
26 Apr 19: Cashflow Statement – an enhanced presentation
28 Jun 20: Cashflow Statement -Period & Trend Analysis
3 Feb 21: The Economic Resources Approach to Accounting (ERAA)
18 Apr 22: Business Valuation – A primer
7 May 22: Business Valuation – Income Approach
24 Sept 22: Corporate Cashflow Sustainability – The foundation for corporate growth.
4 Dec 22: Stock options trading & investment: An introduction.
Currently, embarking on writing a 2nd book entitled "Corporate Growth and Cashflow Sustainability " to be launched by mid-2023, tentatively. This book is targeted for C-suite officers, locally and internationally. It is a sequel to "The Essence of Corporate Cashflow Sustainability".
—————————————MMLee 2Sept 23—————————————-